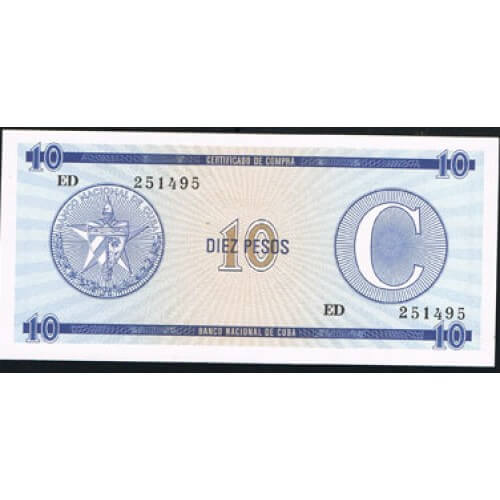 1985 - Cuba P-FX14 10 Pesos banknote
Product Code: Cuba Pic FX14 C 10 pesos
Availability: In Stock
Country and Pick Number: Cuba pick FX14
Banknote Series: 1985 Issue
Bank / Issuer: Banco Nacional de Cuba
First Year of Issue: 1985
Denomination and Currency: 10 Pesos
Issue Type: Foreign Exchange Note
Description of Paper Money / Banknote:

1985.
Front:Light blue on lilac background. Coat of Arms of the National Bank of Cuba on the left. Serie C in a circle on the right. Designation in the center.
Back: Blue.

Note: Images are for reference. The the banknote number shown in the image won't be sent.